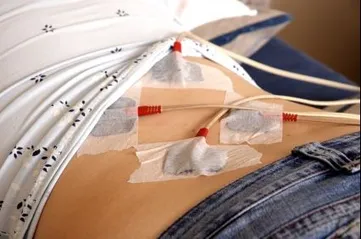 Electrical muscle stimulation (EMS) is a treatment method being used to reduce pain, swelling, and recovery time. This increasingly popular treatment works well for soft tissue injuries, muscle spasms, and even for athletes who want quicker recovery from workouts.


Dr. Paul Early of Georgia Advanced Healthcare has various treatments available to help his patients recover from injuries, including electrical stimulation therapy (E-stim). E-stim is a treatment that Dr. Early uses to help relieve pain caused by headaches, neck pain, back pain, and sciatica.

Neck pain
Dr. Early uses electrical frequencies to help patients recover from neck pain. The technique can improve blood circulation in the muscles that link the neck to the upper back and shoulders.
When used correctly, electrical stimulation can provide immediate neck pain relief.
In addition, it speeds up the body's natural healing process. As a result, you will feel less sore and more energized.
Back pain
Electrical stimulation helps relieve pain and reduce swelling. It also speeds up the healing process for damaged tissues.
During an electrical muscle stimulation session, a machine sends brief electric pulses to the targeted area in your back. These electrical pulses stimulate your body to produce natural pain-relieving chemicals while improving blood flow to help clear toxins.
Generally, electrical stimulation treatments last about 10 to 20 minutes. However, depending on the condition being treated, the intensity of the electric impulses will vary. Depending on the patient's preference, the frequency of the electrical stimulation therapy currents in Canton, GA, can be controlled by Dr. Early.
Disc pain
If you're looking for a way to relieve disc pain, consider using electrical stimulation therapy. It can speed up the healing process, reduce inflammation and help you recover from injuries. In addition, electrical treatments can strengthen supporting muscles and improve circulation.
This therapy involves applying electrodes to the injured area, stimulating the nerves and muscles in the body. Doing so ultimately blocks pain signals to the brain.
Additionally, electrotherapy also promotes the production of endorphins, which block pain perception and soothe inflammation. As a result, the tingling sensation will gradually increase until it becomes more comfortable.
Headaches
Headaches can strike at any time and can cause extreme discomfort. Most of them are benign, but a few can be very debilitating.
While there are many causes of headaches, chiropractors typically use electrical stimulation treatment to relieve pain, inflammation, and tension. As a result, many chiropractic patients report that their headaches have been significantly reduced after undergoing chiropractic treatments.
How does this work? Electrical muscle stimulation uses a mild electrical current to stimulate nerves. This can block pain signals from reaching the brain in minutes.
Are you experiencing chronic pain but would prefer a drug-free, non-invasive treatment? Contact Georgia Advanced Healthcare at (678) 880-7576 to set up your electrical stimulation therapy in Canton, GA, with Dr. Early to develop a personalized treatment plan.